Los efectos de la competencia local por fondos: El caso de los municipios en Chile.
Palabras clave:
administración municipal, finanzas locales, competencia, sector público, funcionarios públicos
Resumen
El presente artículo estudia los efectos de la competencia por fondos entre municipios chilenos. Para esto se entrevistó a un grupo de funcionarios municipales con experiencia en la postulación al Fondo Nacional de Desarrollo Regional (fndr). Pese a su relevancia local, la competencia por fondos de inversión ha sido comúnmente analizada desde una perspectiva jerárquica y aislada de los procesos administrativos acontecidos pre y posdistribución. El artículo muestra que la competencia por el fndr, pese a asegurar la rentabilidad social de los proyectos, favorecería a los municipios con mayor población y recursos, dificultando el cumplimiento de sus objetivos. Además, los proyectos tenderían a buscar el beneplácito del gobierno central en detrimento de lo propuesto localmente, evidenciando una asimetría entre los funcionarios del gobierno local y central. Por último, la competencia incentivaría la postulación de proyectos de menor magnitud y fácilmente visibles por la población, lo que afectaría el desarrollo de los municipios y las comunidades que las habitan.
Citas
Aberbach, J.D. y T. Christensen (2001), "Radical Reform in New Zealand: Crisis, Windows of Opportunity, and Rational Actors", Public Administration, 79(2), pp. 403-422, DOI: https://doi.org/10.1111/1467-9299.00262.
Acuña, A. (2009), "Propuestas de mejora al diseño y gestión del Fondo Nacional de Desarrollo", tesis de ingeniería, Universidad de Chile-Facultad de Ciencias Físicas y Matemáticas-Departamento de Ingeniería Industrial.
Acuña, H., D. Carrasco, M. Carrasco y A. Cazor (2017), "Transferencias gubernamentales discrecionales para la captura de votos: El caso de Chile", Economía y Política, 4(1), pp. 37-96.
Agranoff, R. (2012), Collaborating to Manage: A Primer for the Public Sector, Washington, D.C., Georgetown University Press.
Ahmad, E. y J. Craig (eds.) (1997), Intergovernmental Transfers: Fiscal Federalism in Theory and Practice, Washington, D.C., World Bank, pp. 73-107.
Aninat, I., I. Irarrázaval, C. Larraín, S. Razmilic y J. Rodríguez (2020), "Finanzas públicas regionales: Propuestas presupuestarias e institucionales", en I. Aninat, S. Razmilic, J. Rodríguez e I. Irarrázaval (eds.), Más allá de Santiago: Descentralización fiscal en Chile, Santiago de Chile, Centro de Estudios Públicos.
Araya, E. y A. Cerpa (2008), "La nueva gestión pública y las reformas en la administración pública chilena", Revista de Estudios Politécnicos, VII(11), pp. 19-47.
Armijo, G. (2000), "La urbanización del campo metropolitano de Santiago: Crisis y desaparición del hábitat rural", Revista de Urbanismo, 3.
Atienza, M. y P. Aroca (2012), "Concentración y crecimiento en Chile: Una relación negativa ignorada", EURE (Santiago), 38(114), pp. 257-277.
Ávila, I.R. y A.D.I. Reyes (2021), "Fatiga, límites de deuda y espacio fiscal de los gobiernos estatales en México", Gestión y Política Pública, XXX(2), pp. 29-65.
Balbontín, R., L. Escobar y A. Seemann (2017), Financiamiento de los gobiernos regionales en Chile, Santiago de Chile, Dipres.
Barzelay, M. (2003), La nueva gerencia pública: Un acercamiento a la investigación y al debate de las políticas públicas, Ciudad de México, FCE.
Beam, D.R. y T.J. Conlan (2002), "Grants", en L.M. Salamon (ed.), The Tools of Government: A Guide to the New Governance, Nueva York, Oxford University Press, pp. 340-380.
BID (Banco Interamericano de Desarrollo) (2002), "Ingresos municipales en Centroamérica: Situación actual y perspectivas de modernización", Memorias de la IX Reunión de la Red Centroamericana por la Descentralización y Fortalecimiento Municipal, diciembre, Antigua, Guatemala, Banco Interamericano de Desarrollo.
Bradford, D.F. y W.E. Oates (1971), "The Analysis of Revenue Sharing in a New Approach to Collective Fiscal Decisions", The Quarterly Journal of Economics, 85(3), pp. 416-439.
Bravo, J. (2014), "Fondo Común Municipal y su desincentivo a la recaudación en Chile", Temas de la Agenda Pública, 9(68), pp. 5-18.
Brennan, A., J. Rhodes y P. Tyler (1998), Evaluation of the Single Regeneration Budget Challenge Fund: A Partnership for Regeneration, an Interim Evaluation, Londres, Department of the Environment, Transport and the Regions.
Bryson, J.M., B.C. Crosby y L. Bloomberg (2014), "Public Value Governance: Moving Beyond Traditional Public Administration and the New Public Management", Public Administration Review, 74(4), pp. 445-456, DOI: https://doi.org/10.1111/puar.12238.470.
B uchanan, J.M. (2001), "Fiscal Equalization Revisited", presentado en la conferencia Equalization: Welfare Trap or Helping Hand? Montreal, 25 de octubre.
Buurman, M., J. Delfgaauw, R. Dur y S. Van den Bossche (2012), "Public Sector Employees: Risk Averse and Altruistic?" Journal of Economic Behavior & Organization, 83(3), pp. 279-291.
Carley, S., S. Nicholson-Crotty y E.J. Fisher (2015), "Capacity, Guidance, and the Implementation of the American Recovery and Reinvestment Act", Public Administration Review, 75(1), pp. 113-125.
Chica, S. y C. Salazar (2016), "Nueva y posnueva gestión pública: ¿Continuidad o ruptura de las doctrinas de reforma a partir de 1990?", Administración & Desarrollo, 46(1), pp. 100-125.
Christensen, T. y P. Lægreid (2005), "Trust in Government: The Relative Importance of Service Satisfaction, Political Factors, and Demography", Public Performance & Management Review, DOI: https://doi.org/10.1080/15309576.2005.11051848.
Clarke, V. y V. Braun (2014), "Thematic Analysis", Encyclopedia of Critical Psychology, Nueva York, Springer, pp. 1947-1952.
Collins, B.K. y B.J. Gerber (2006), "Redistributive Policy and Devolution: Is State Administration a Road Block (grant) to Equitable Access to Federal Funds?" Journal of Public Administration Research and Theory, 16(4), pp. 613-632.
Comisión Asesora Presidencial en Descentralización y Desarrollo Regional (2014), Propuesta de política de Estado y agenda para la descentralización y el desarrollo territorial de Chile: Hacia un país desarrollado y justo, 7 de octubre, Santiago de Chile.
Cooper, T.L. y D.C. Menzel (2013), Achieving Ethical Competence for Public Service Leadership. Armonk, M.E. Sharpe.
Correa, C.L. y P. Correa (2021), "Historia y evolución del financiamiento a los gobiernos regionales", Puntos de Referencia, 566, pp. 2-24.
Cuevas, C.G. (2013), "Ventaja electoral de incumbentes en Chile: Evidencia para elecciones municipales", tesis de maestría, Santiago de Chile, Pontificia Universidad Católica de Chile-Instituto de Economía.
Dawson, S. y C. Dargie (2002), New Public Management: A Discussion with Special Reference to UK Health, Londres, Routledge.
Díaz, A. (1993), "Los cuasi mercados de participación… casi participación", Seminario de Politicas Publicas, Santiago de Chile, Universidad Arcis.
Domberger, S. (1998), The Contracting Organization: A Strategic Guide to Outsourcing, Oxford, Oxford University Press.
Dunn, W.N. y D.Y. Miller (2007), "A Critique of the New Public Management and the Neo-Weberian State: Advancing a Critical Theory of Administrative Reform", Public Organization Review, 7(4), pp. 345-358.
Dworkin, S.L. (2012), "Sample Size Policy for Qualitative Studies Using in-depth Interviews", Archives of Sexual Behavior, 41, pp. 1319-1320.
Foley, P. (1999), "Competition as Public Policy: A Review of Challenge Funding", Public Administration, 77(4), pp. 809-836.
Fondo Invierte para el Desarrollo Territorial (FIDT) (2021), "Obtener recursos del Fondo Invierte para el desarrollo territorial", en: https://www.gob.pe/9065-obtener-recursos-delfondo-invierte-para-el-desarrollo-territorial-fidt [fecha de consulta: 28 de julio de 2021].
Gruening, G. (2001), "Origin and Theoretical Basis of New Public Management", International Public Management Journal, 4(1), pp. 1-25.
Haque, M.S. (2004), "New Public Management: Origins, Dimensions, and Critical Implications", Encyclopedia of Life Support Systems, vol. 1 "Public Administration and Public Policy".
Hernández, R.A. (2019) Discrecionalidad en la distribución de recursos a los gobiernos regionales: Análisis de la legislación y de los presupuestos regionales, Santiago de Chile, Biblioteca del Congreso Nacional de Chile.
Hood, C. (1991), "A Public Management for All Seasons?" Public Administration, 69(1), pp. 3-19.
Ider (Instituto de Desarrollo Local y Regional) y Universidad La Frontera (2009), Las funciones y financiamiento del nivel regional y municipal: Un desafío para Chile del futuro Proyecto BCN Innova, informe final, Temuco, 14 de septiembre.
John, P. y H. Ward (2005), "How Competitive is Competitive Bidding? The Case of the Single Regeneration Budget Program", Journal of Public Administration Research and Theory, 15(1), pp. 71-87.
John, P., H. Ward y K. Dowding (2004), "The Bidding Game: Competitive Funding Regimes and the Political Targeting of Urban Programme Schemes", British Journal of Political Science, 34(3), pp 405-428.
Johnson, R.A. y D.W. Wichern (2004), "Multivariate Analysis", en S. Kotz, C.B. Read, N. Balakrishnan, B. Vidakovic y N.L. Johnson (eds.), Encyclopedia of Statistical Sciences, Nueva York, John Wiley and Sons.
King, D. (1984), Fiscal Tiers: The Economics of Multi-Level Government, Londres, Routledge.
King, D. (1992), "Issues in Multi-level Government", en P.M. Jackson (ed.), Current Issues in Public Sector Economics, Londres, Palgrave, pp. 156-182.
Krishna, V. (2002), Auction Theory, San Diego, Academic Press.
Lamothe, S. (2015), "How Competitive is 'Competitive' Procurement in the Social Services?" The American Review of Public Administration, 45(5), pp. 584-606.
Livert, F. y X. Gainza (2017), "Distributive Politics and Spatial Equity: The Allocation of Public Investment in Chile", Regional Studies, DOI: 10.1080/00343404.2017.1309013.
L oader, K. (2002), "What Price Competition? The Management of Competitive Funding in UK Local Government", International Journal of Public Sector Management, 15(7), pp. 565-577.
Localis (2014), To Bid or Not to Bid: Calculating the Costs of Competitive Funding Processes, Westminster, Localis.
Löffler, E. y T. Bovaird (2004), "Understanding Public Management and Governance", en T. Bovaird, E. Löffler y E. Loeffle (eds.), Public Management and Governance, Londres, Routledge, pp. 27-38.
Mancha-Navarro, T., D. Tripodi, J.R. Cuadrado-Roura, R. Lizana y P. Aroca (2006), Evolución, lecciones y desafíos de las políticas de desarrollo regional/territorial en Chile, Madrid, Universidad de Alcalá-Instituto Universitario de Análisis Económico y Social.
McGinn, N. y S. Street (1986), "Educational Decentralization: Weak State or Strong State?" Comparative Education Review, 30(4), pp. 471-490.
McLaughlin, K. y S.P. Osborne y E. Ferlie (2002), New Public Management: Current Trends and Future Prospects, Londres y Nueva York, Routledge.
Milanesi, A. y C. Ramos (2017), "Public Management Models, Latin America", en A. Farazmand (ed.), Global Encyclopedia of Public Administration, Public Policy, and Governance, Ámsterdam, Springer, DOI: https://doi.org/10.1007/978-3-319-31816-5_2692-1.
Molina, K.D. (2006), "Síntesis del proceso de modernización del Estado en Chile (1994-2003)", Documento de Apoyo Docente-N6, Universidad de Chile.
Montecinos, E. y P. Contreras (2021), "Municipios y democracia en Chile: ¿Se está cumpliendo la ley 20.500 de participación ciudadana?" Revista Iberoamericana de Estudios Municipales, 23, pp. 63-80.
Niskanen, W. (1971), Bureaucracy and Representative Government, Chicago, Aldine Atherton.
Oates, W.E. (1972), Fiscal Federalism, Nueva York, Harcourt Brace Jovanovich.
Oates, W.E. (1999), "An Essay on Fiscal Federalism", Journal of Economic Literature, 37(3), pp. 1120-1149.
Oatley, N. (1995), "Competitive Urban Policy and the Regeneration Game", Town Planning Review, 66(1), pp. 1-14.
OHE Commission (Office of Health Economics) (2012), Report of the Office of Health Economics Commission on Competition in the nhs, Londres, ohe Commission.
Olavarría, M., B. Navarrete y V. Figueroa (2011), "¿Cómo se formulan las políticas públicas en Chile? Evidencia desde un estudio de caso", Política y Gobierno, XVIII(1), pp.109-154.
Orellana, A. (2009), "La gobernabilidad metropolitana de Santiago: La dispar relación de poder de los municipios", Eure, 35(104), pp. 101-120.
Osborne, D. y P. Plastrik (2000), The Reinventor's Fieldbook: Tools for Transforming Your Government, San Francisco, Jossey Bass.
Osborne, D. y T. Gaebler (1992), Reinventing Government: How the Entrepreneurial Spirit is Transforming Government, Reading, Addison Wesley.
Osborne, S.P. (2006), "The New Public Governance?", Public Management Review, 8(3), pp. 377-387.
Ostrom, V. (1973), The Intellectual Crisis in American Public Administration, Tuscaloosa, The University of Alabama Press.
Peters, B.G. y J. Pierre (1998), "Governance without Government? Rethinking Public Administration", Journal of Public Administration Research and Theory, 8(2), pp. 223-243.
Pineda, E., T. Ter-Minassian, E. Ahmad, L. Letelier e I. Fernández (2018), Estrategia integral para una descentralización efectiva y fiscalmente responsable: Evidencia de Chile, Washington, D.C., BID.
Piña, G. y C. Avellaneda (2017), Local Government Effectiveness: Assessing the Role of Administrative Capacity, Santiago de Chile, Universidad de Chile.
Pompa, C. (2013), Understanding Challenge Funds. Londres, ODI.
Rajaraman, I. y G. Vasishtha (2000), "Impact of Grants on Tax Effort of Local Government", Economic and Political Weekly, 35(33), pp. 2943-2948.
Ramírez de la Cruz, E.E. (2012), "Instituciones y gobernanza metropolitana: Una primera aproximación al caso de México", Estudios Demográficos y Urbanos, 27(2), pp. 491-520.
Robinson, K.L. (2017), "Fortune Favors the Funded: Equity v. Efficiency in Government Grant Design", tesis de maestría, California State University.
Savas, E.S. (1982), Privatizing the Public Sector: How to Shrink Government, Londres, Chatham House Publishers
Shah, A. (2006), "A Practitioner's Guide to Intergovernmental Fiscal Transfers", documento de trabajo 4039, Banco Mundial.
Sinim (Sistema Nacional de Información Municipal) (2016), Datos municipales, Santiago de Chile, Subsecretaría de Desarrollo Regional y Administrativo, en: http://datos.sinim.gov.cl/datos_municipales.php [fecha de consulta: 18 de marzo de 2016].
Smart, M. (2007), The Incentive Effects of Grants: Intergovernmental Fiscal Transfers, Washington, D.C., Banco Mundial, pp. 203-223.
Stewart, J. y K. Walsh (1992), "Change in the Management of Public Services", Public Administration, 70(4), pp. 499-518.
Taylor, P., I. Turok y A. Hastings (2001), "Competitive Bidding in Urban Regeneration: Stimulus or Disillusionment for the Losers?" Environment and Planning C: Government and Policy, 19(1), pp. 45-63.
Valenzuela, J.P. (2007), Análisis prospectivo de las capacidades institucionales y de gestión de los gobiernos subnacionales en Chile, Santiago de Chile, Universidad de Chile-Programa de Investigación en Educación.
van Manen, M. (1984), "Doing Phenomenological Research and Writing", International Journal of Qualitative Methods, 31(6), pp. 1069-1082, DOI: 10.1177/10497323211003058.
Verbeeten, F.H.M. y R.F. Speklé (2015), "Management Control, Results-Oriented Culture and Public Sector Performance: Empirical Evidence on New Public Management", Organization Studies, 36(7), pp. 953-978, DOI: https://doi.org/10.1177/0170840615580014.
Von Baer, H., I. Toloza y F. Torralbo (2012), Chile descentralizado y desarrollado: Fundamentos y propuestas para construir una política de Estado (2014-2030) y un nuevo programa de gobierno (2014-2018) en descentralización y desarrollo territorial, Santiago de Chile, Conarede/Proyecto País del Colegio de Ingenieros/AUR/Fundación Avina.
Ward, H. (1997), "The Single Regeneration Budget and the Issue of Local Flexibility", Regional Studies, 31(1), pp. 78-81.
Ward, H. y P. John (2008), "A Spatial Model of Competitive Bidding for Government Grants: Why Efficiency Gains are Limited", Journal of Theoretical Politics, 20(1), pp. 47-66.
White, C., D. Bloyce y M. Thurston (2020), "The Double-bind of Competitive Funding: Exploring the Consequences of State-funded Bidding Processes in a Locally Managed Cycling Infrastructure Project", European Journal of Transport and Infrastructure Research, 20(4), pp. 173-193.
Zavala-Villalón, G., C. Ganga-León, R. Rojas-Andrade, B. Torres Cortés y L. Leiva Bahamondes (2020), "Implementación de un programa público de salud mental escolar en Chile en el contexto de la nueva gestión pública", Gestión y Política Pública, XXIX(2), pp. 447-475.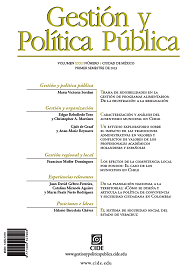 Descargas
Cómo citar
Moller Domínguez, Francisco. 2023. «Los Efectos De La Competencia Local Por Fondos: El Caso De Los Municipios En Chile». Gestión Y Política Pública 32 (1):99-130. https://doi.org/10.60583/gypp.v32i1.2153.
Sección
Gestión regional y local